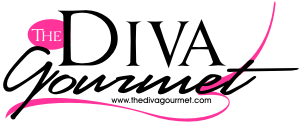 create...collaborate...celebrate!
resources for creative party & dining memories...

Celebrate just about anything with…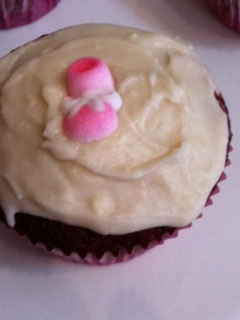 Red Velvet Cupcakes with Cream Cheese Frosting


cupcakes
1 1/2 c sugar
1/2 c butter, room temperature
2 eggs, room temperature
2 1/3 c cake flour
2 T cocoa powder
1 t baking soda
1 t baking powder
1/2 t salt
1 c buttermilk*
1-1/2 T red food coloring
1 t vanilla extract
1 t distilled white vinegar
*You can make your own buttermilk by adding a tablespoon of distilled white vinegar to milk and letting it stand for about 10 minutes.


Preheat the oven to 350°F. Beat the butter and sugar on medium speed until light and fluffy.
Add the eggs, one at a time, beating until each is fully blended.
In a large bowl, sift together the cake flour, cocoa powder, baking soda, baking powder, and salt.
In another bowl whisk together the buttermilk, vinegar, vanilla extract, and red food coloring.
Add a fourth of the dry ingredients and mix, then add a third of the wet. Continue adding in a dry, wet, dry pattern, ending with the dry ingredients.
Fill cupcake papers, 1/2 to 3/4 full. Bake for 18-22 minutes or until a toothpick comes out clean. Rotate the pan after the first 15 minutes of baking to ensure even baking.
Allow to cool for one minute in the pan then transfer to a wire rack to cool completely.
Makes about 2 1/2 dozen cupcakes.
frosting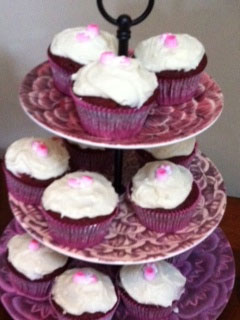 1/2 c butter, room temperature
8 oz cream cheese , room temperature
2 - 3 c powdered sugar
1 t vanilla extract


Cream the butter and cream cheese together
Add the vanilla extract and mix.
Add the powdered sugar.
Spread onto cooled cupcakes.
Recipe from Simply Recipes