the divas' best
chili recipes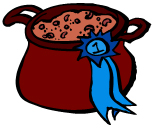 the scoop
On Election Night 2008, we had an "All-American" party. Emotions and anticipation of the results were high…so I made "chili for a crowd" and Carol made her delicious "apple pie" for dessert.
Along with the chili we served corn bread, an original recipe from the Minneapolis restaurant "Redstone", and a simple lettuce salad. We topped off our party with beers from around the U.S.
first things first
This recipe originally came from the Silver Palate Cookbook and used beef. Now, I use a combination of ground turkey and ground Italian sausage. I also substitute black beans for the red kidney beans. It's quite a crowd pleaser!
ideas
Condiments include: green onions, mozzarella, cheddar and parmesan cheeses, diced white onions, and sour cream.
"the best" chili recipe
chili for a crowd

olive oil
2 yellow onions
2 lbs sweet Italian sausage
2 lbs lean ground turkey
3/4 T black pepper
1-12 oz can tomato paste
1 1/2 T fresh minced garlic
2 1/2 T ground cumin seed
3 T chili powder
1/4 c Dijon mustard
2 T salt
2 T dried oregano
2 T dried basil
2 "big" cans Italian plum tomatoes
1/4 c red wine vinegar
1/8 c lemon juice
1/4 c fresh dill
1/4 c Italian parsley
2-15 oz cans black beans
2-4.5 ozcans pitted black olives


Cook onions in the oil until tender and translucent. Brown the meat you have chosen…spoon out any unwanted fat. Add all other ingredients and simmer uncovered for 15 minutes. Taste, correct and add olives.