the divas' best
salmon recipes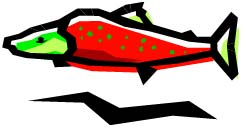 the scoop
On a recent trip to Alaska we met an extraordinary 77 year old native woman named Charlotte, mother of 13 children. She was noticeably vital and healthy looking. When asked about her youthful looks she attributed that good fortune to her style of living, and noted the daily fresh salmon that she and her family caught and prepared.
Makes you wonder about all the benefits of salmon, doesn't it!
first things first
Of course…salmon is nutritious…high in protein and omega-3 fats. Wild salmon contains less contaminants than artificially-colored farmed salmon. Canned salmon is always wild and is rich in calcium because of the small edible bones it contains.
ideas
Salmon can be cooked in many different ways: grilled, baked, poached, broiled or pan-fried. You can buy it fresh, frozen, canned and smoked. Don't let it dry out…cook just until the fish flakes!
barbecue roasted salmon

• Marinate a 1 ½ lb salmon in ¼c pineapple juice, 2 T of fresh lemon juice at least an hour.
• Combine these ingredients and rub on the salmon:
2 T brown sugar
4 t chili powder
2 t grated lemon rind
¾ t ground cumin
½ t salt
¼ t cinnamon
• Preheat oven to 400 degrees. Place in a dish coated with cooking spray. Bake for 12 minutes or until fish flakes.

Adapted from Cooking Light
a salmon feast for your love...

2 T olive oil
2-6 oz salmon filets
1 small shallot or green onion, chopped
2 T capers
juice and zest of 1 lemon
3 T unsalted butter
2 T fresh dill, chopped

•Heat half the oil over medium heat and season salmon on both sides with salt and pepper.
•Cook in oil for 5 minutes per side until flaky and transfer to a plate.
•Wipe out pan and cook capers and shallots in remaining oil for 2 minutes.
•Stir in lemon juice and simmer 1 minute. Remove from heat and whisk in butter.
•Stir in dill and lemon zest. Let salmon soak in the sauce, serve.

Adapted from Whole Foods Monthly, Jan/Feb 2008